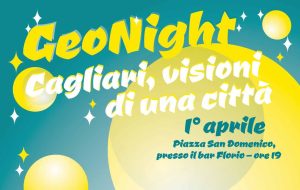 Cagliari, visioni di una città
---
The event will be: In presenza
Short presentation of the event:
L'evento cagliaritano, organizzato da un gruppo di dottorande e dottori di ricerca dei Dipartimenti di Ingegneria Civile, Ambientale e Architettura e di Lettere, Lingue e Beni Culturali dell'Università di Cagliari, si prefigge come scopo principale quello di costruire un dibattito aperto intorno alle problematiche e alle nuove progettualità dello spazio pubblico urbano cagliaritano.
A partire dalla recente mobilitazione in risposta alla pubblicazione del nuovo Regolamento di Polizia e Sicurezza Urbana, che ha coinvolto gruppi organizzati e singolə cittadinə, si vuole discutere collettivamente sulle prospettive urbane e di pianificazione della città di Cagliari. 
L'evento, patrocinato dal Dottorato in Ingegneria Civile e Architettura dell'Università di Cagliari, è gratuito e la partecipazione è aperta a tuttə.
L'evento inizierà alle 19:00 con una serie di riflessioni che prendono spunto dalla recente mobilitazione spontanea nata in risposta alla pubblicazione del nuovo Regolamento di Polizia Urbana del Comune di Cagliari. Parteciperanno al dibattito differenti gruppi cittadini (Assemblea indecorosə, Mutuo Soccorso Casteddu, Ciclofficina Sella del Diavolo). 
Verrà successivamente presentato il primo numero della fanzine «La Strada» sui temi della mobilità sostenibile e del diritto alla città a cura di Oreri—Iniziativa Editoriale. 
L'ultima parte dell'evento sarà dedicata alla presentazione, da parte del Professor Luigi Mundula (DICAAR), del Piano Strategico della Città Metropolitana di Cagliari, per lasciare poi spazio a un momento di discussione collettiva.
---
Objectives: Riflettere sulle criticità esistenti, sviluppare idee e proporre soluzioni su misura per la città, discutere i temi esposti dai regolamenti urbani (mobilità, decoro, sicurezza, accesso alla città), ragionare sulle prospettive di piano e sul futuro della città metropolitana.
Event language: italiano
Country: Italia
City: Cagliari
Reference person: Cinzia Atzeni, Martina Loi, Alice Salimbeni, Giacomo Spanu
Role or Function: dottorande di ricerca e dottori di ricerca
Reference Organization (if any):
Those who organize are: Accademici, Appassionati della Geografia, Studenti
Expected duration: 19:00-22:00
Event program:
19.00 – Interventi dellə componenti dell'Assemblea indecorosə sul Nuovo Regolamento di Polizia Urbana
20.15 – Presentazione del progetto «La Strada» di Oreri—Iniziativa editoriale. Ne discutono Luca Carboni (Oreri), Giuseppe Carta (Mesu) e Simona Larghetti (Salvaiciclisti Bologna e Dynamo Velostazione Bologna)
20.35 – Presentazione del Piano Strategico Città Metropolitana. Interviene il prof. Luigi Mundula (Università degli Studi di Cagliari)
21.05 – Discussione aperta

ID.U.N.405