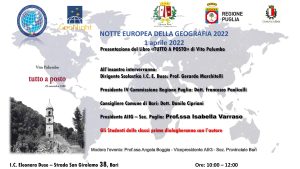 Presentazione del libro: TUTTO A POSTO di Vito Palumbo
---
Presentation book: "TUTTO A POSTO" – Vito Palumbo
The event will be: In modalità mista (Online E in presenza)
Short presentation of the event: Durante l'evento si presenterà il nuovo libro di Vito Palumbo dal titolo "Tutto a posto", un romanzo che narra la storia dell'Acquedotto Pugliese, la nascita avvenuta nel territorio lucano sino ad arrivare in Puglia. Caposele è un piccolo centro Irpino che ospita la sorgente del più grande acquedotto d'Europa. I fatti narrati sono realmente accaduti. All'evento parteciperanno la Presidente della Sezione Puglia Prof.ssa Isabella Varraso, Prof.ssa M. Fiori (referente didattica AIIG sezione Puglia e Docente dell'Università di Bari), il Dott. Francesco Paolicelli (Presidente IV Commissione Regione Puglia), Dott. Danilo Cipriani (Consigliere Comune di Bari), gli alunni dell'Istituto Comprensivo E. Duse coordinati dalla Prof.ssa Monia De Bernardis  che dialogheranno con l'autore. L'evento sarà presentato e moderato dalla Prof.ssa Angela Boggia (vicepresidente e referente under 35 dell'AIIG sezione Puglia e docente di geografia e italiano presso gli Istituti di Secondo Grado).
During the event will be presented the new book by Vito Palumbo entitled "Tutto a posto", a novel that tells the history of the Apulian Aqueduct, the birth that took place in the Lucanian territory up to Puglia.
---
Objectives: L'obiettivo di questo incontro è quello di far conoscere alle nuove generazioni la storia dell'Acquedotto Pugliese e di poter preservare il nostro bene comune.
Event language: Italiano
Country: Italia
City: Bari
Link (for online events): meet.google.com/bia-kqsh-rdm
Reference person: Prof.ssa Angela Boggia
Role or Function: Vicepresidente AIIG BARI – Referente under 35 sez. Puglia
Reference Organization Aiig sezione Puglia
Those who organize are: Accademici, Studenti
Expected duration: circa 2 ore
Event program: [to be be displayed here as soon as possibile]
ID.U.N.418