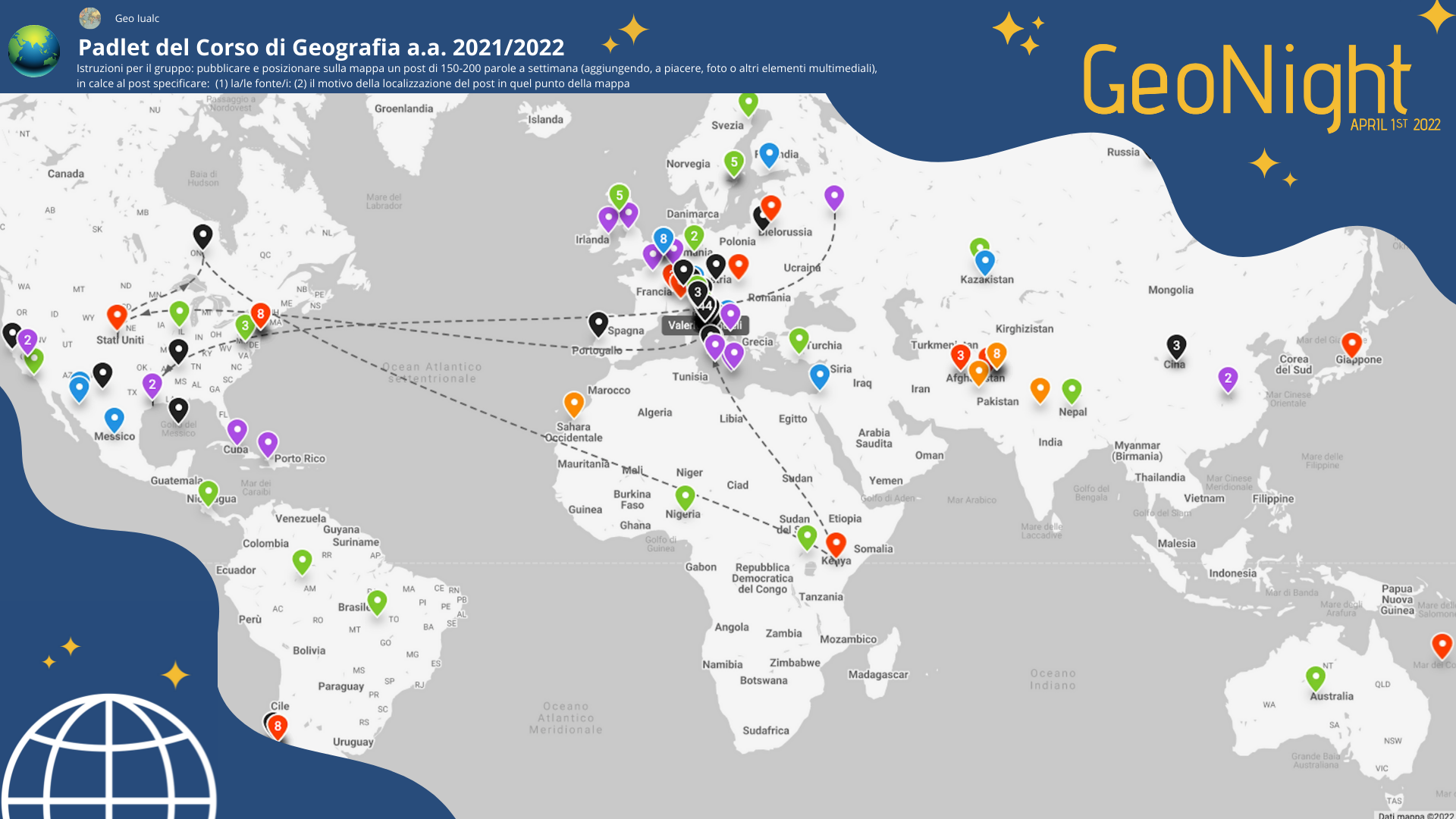 Il padlet del corso di Geografia.

Luoghi, concetti e approfondimenti tematici nello spazio dell'attualità
The Geography class padlet. Places, concepts and in-depth analysis in the latest news space
---
The event will be: Online via Google Meet (HERE THE VIDEO-RECORDING OF THE SESSION)
Special thanks to Unistrasi students and Geography class attendees MIRIANA DICHIERA, FRANCESCA MARZOCCHI, ANITA MONTI, GAIA PALMERINI, FEDERICA PEDONE, REBECCA RIZZO, MARIACHIARA SANTORO and ANA MARIA SAVA who animated the debate of the event.
Short presentation of the event: Per lo svolgimento del corso di Geografia generale, si è deciso di introdurre come attività laboratoriale la realizzazione di un padlet di geografia, basato sull'approfondimento di argomenti di attualità o di importanti tematiche presenti nel dibattito mediatico contemporaneo. Tali questioni, naturalmente ben collegate ai concetti affrontati nel corso generale, hanno permesso a gruppi di studenti e studentesse di proporre mediante la geo-localizzazione dei propri post relativi ad analisi specifiche, una visione d'insieme del flusso informativo ma ragionato proveniente da più fonti, ottenendo la possibilità di scorgere relazionalità e implicazioni non palesi, semplicemente osservando la mappa collettivamente e progressivamente costruita. L'evento, dunque, animato dai responsabili del corso di Geografia (Andrea Simone e Daniele Mezzapelle) intende dialogare circa le varie fasi di vita del padlet di geografia, dalla sua genesi alla sua lettura finale, anche coinvolgendo gli autori e le autrici dei singoli post.
***
We are happy to present the final outcome of a laboratory activity held at the University for Foreigners of Siena within the course of General Geography. Students have been asked to monitor national and/or international topical issues and to post regular reports on a "cartographic padlet". The activity allowed the geo-localize and have a global vision of the information flow. 
---
Objectives:
Event language: italiano
Country: Italia
City: Siena
Link (for online events): video-recording of the event
Reference person: Andrea Simone, Daniele Mezzapelle, Massimiliano Tabusi (Università per Stranieri di Siena)
Role or Function: docenti universitari
Reference Organization (if any):
Those who organize are: Accademici, Appassionati della Geografia, Studenti e Studentesse
Expected duration: circa 1,5 ore
Event program: the event will start al 18:30 CEST

ID.U.N.445