The Ring of Fire – home to hundreds volcanoes and earthquakes
The event will be: Online

Short presentation of the event:
The Ring of Fire is home to 75% of the world's volcanoes and 90% of its earthquakes. The Ring of Fire is a roughly 25,000-mile chain of volcanoes and seismically active sites that outline the Pacific Ocean.
The event will consist of a lecture part (45 minutes) and tasks for participants (quizzes). At the end of the presentation with the participants we will conduct an experiment – an erupting volcano. The event will focus on volcanism, plutonism and tectonics. Participants will learn about the major types of volcanoes, the geological process behind eruptions, and where were the most destructive volcanic eruptions. The participants of the GEOpraktyki project will talk about the geology of the Ring of Fire. In addition, they will also present a trend – volcanic tourism, which is a new phenomenon among tourists who want to climb active volcanoes.
The lecture part will be rich in infographics and quizzes (activation of participants and checking the acquired knowledge). Participants will see how at home we can to create a volcano and trigger its eruption.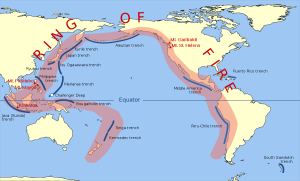 ---
Objectives: Gaining knowledge about volcanism;
developing interests in natural sciences, especially geography:

raising awareness of global environmental threats, inspiration for action;

promotion of scientific expeditions as innovative forms of gaining knowledge and experience;

learning by traveling;
Event language: Polish language
Country: Poland / Polska
City: Poznań
Link (for online events): CLICK HERE! 🙂
Reference person: Magdalena Kugiejko
Role or Function: Lecturer at University
Reference Organization GEOpraktyki check this out!
Where to find us: fb: Our funpage Ig:  Our diary
Those who organize are: Academics, Students
Expected duration: around 1,5 hour
Event program: Presentation on the main topic and activities related to the knowledge of the presented news
ID.U.N.471