Geocaching in Geoparks
---
Geocaching in Geoparks
The event will be: Mixed (Online AND in presence)
Short presentation of the event: An online (Zoom) session will be held on Friday, April 1, 2022. In this briefing, we will explain how to play "Geocaching", a game of treasure hunting using the global navigation satellite system (GNSS). The locations for the treasure hunt are provided in Geoparks throughout Japan (starting with six Geoparks: Mikasa, Yuzawa, Choshi, Itoigawa, Oki, and Mishima-mura/Kikai Caldera; and gradually expanding to Geoparks nationwide). The timing of the treasure hunt by players at Geopark sites will be at any time after April 1, 2022. Caches (containers that are proxies of treasure chests) are hidden somewhere in each Geopark. Let's go look for treasures using GNSS location information.

---
Objectives: dissemination of geocaching and mutual communications in natural areas.
Event language: Japanese
Country: Japan
City: multiple locations (Geoparks in Japan)
Link (for online events): https://sites.google.com/view/outreach-of-geography/event/geonight-2022
https://www.instagram.com/geonight.jpn/
Reference person: yuichi hayakawa
Role or Function: univ prof
Reference Organization (if any): IGU Japan Committee, Association for Japanese Geographers, Japan Cartographers Association, Outreach Research Group of AJG, Japan Geopark Network
Those who organize are: Academics, Geography enthusiasts, Japanese Geoparks Network
Expected duration: around 1.5 hours for the explanation session. Players can make a decision on the appropriate time and place depending of playing on the situation. We also plan to share cache finding information among participants using hashtags in SNS (Instagram).

Event program: a Zoom session on how to play Geochaching in Geoparks. 
video of our geonight session is here!!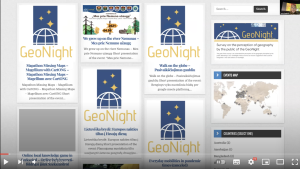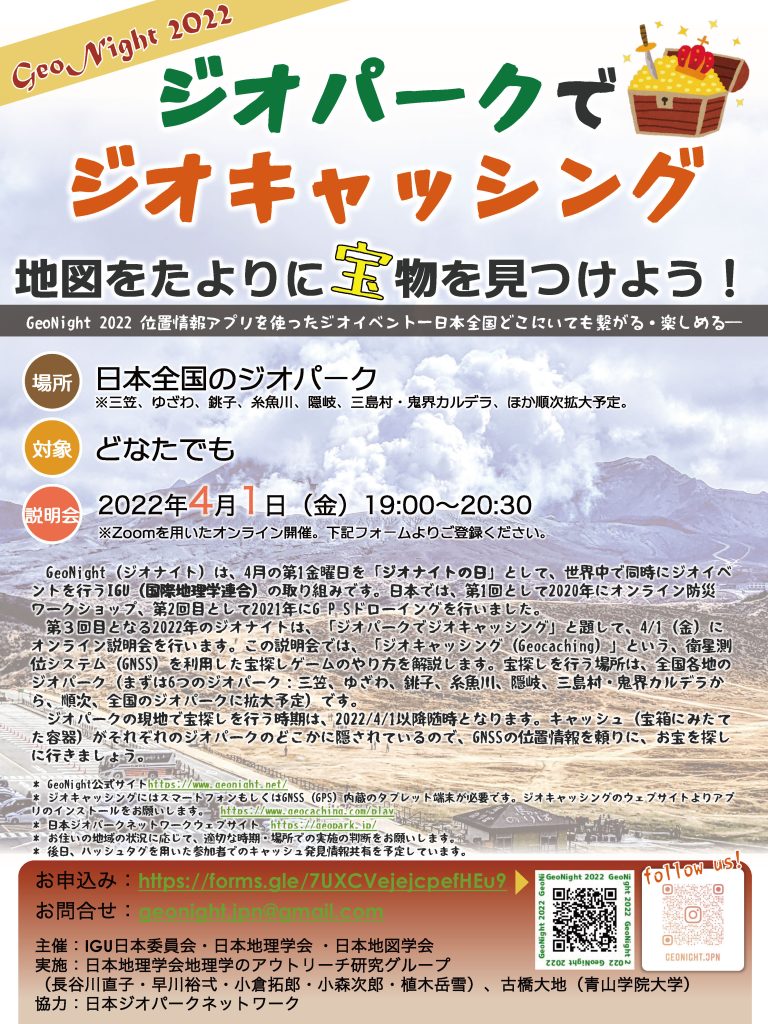 ID.U.N.481