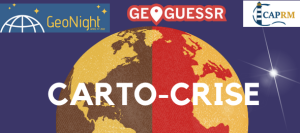 ---
Catastrophe cartography
💻🕘L'événement a lieu en ligne, à distance. Il commence à 21h et durera 1 heure environ. Voici le lien zoom !

Short presentation of the event:
Vous allez voyager, ce soir,
Dans des lieux de mémoire.
Sauriez-vous les reconnaître
Et vous placer à quelques mètres ?
Tonight, you will travel to places,
Where disasters have left traces.
Can you recognise where you are
and place yourself on a map, not too far ?
🌍Grâce à Geoguessr, nous allons découvrir des lieux de catastrophes (naturelles, technologiques, sociétales…). L'évènement consiste en 2 manches de jeu de 10 minutes chacunes suivies par une présentation des lieux découverts.
We will be using Geoguessr to discover different disaster-related locations. The event will consist of 2 rounds each lasting 10 minutes and each followed by an explanation of what happened at the different locations.
---
Objectives:
Se situer dans l'espace.
Découvrir une géographie des risques et des crises.
Discussion sur ces enjeux.
Event language: 🇫🇷Français / 🇬🇧 English translation possible if english speakers are present !
Reference person: Mairi HIGGS
Role or Function: Etudiant, responsable communication
Reference Organization : CapRM

Those who organize are: Universitaires (enseignants-chercheurs, chercheurs, enseignants, doctorants, etc.), Passionnés de géographie, Etudiants ou association étudiante
Event program:
21:00 : début et introduction / start and intro
21:10 : première manche / first round
21:15 : description des lieux, discussion/ explanation of the different places visited
21:30 : deuxième manche / second round
21:45 : description des lieux, discussion / explanation of the different places visited
22:00 : mot de fin / end
ID.U.N.521