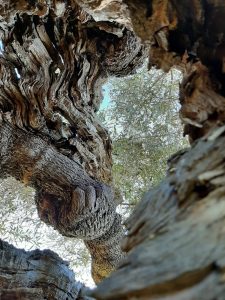 Il disseccamento degli ulivi in Puglia e la questione Xylella: a otto anni dalla proclamata emergenza A che punto siamo?
---
The olive quick decline syndrome in Apulia Region and the Xylella question: eight years after the proclaimed emergency. Where are we?
The event will be: Online
Short presentation of the event: La geografia della Puglia, terra di ulivi plurisecolari e millenari, è al centro di uno stravolgimento epocale. Gli ulivi, anche in pieno stato vegetativo e produttivo, continuano a essere abbattuti a ritmo inesorabile. A febbraio 2021 sono state avanzate richieste per l'espianto di quasi 4 milioni di ulivi in Salento e contestuale richiesta di reimpianto delle uniche due varietà consentite (Leccino, non autoctona e autosterile e FS-17, brevettata), adatte ad impianti superintensivi e finanziate da fondi pubblici. Ad aprile, sono stati abbattuti per la prima volta ulivi monumentali censiti nella Piana degli ulivi millenari a cavallo fra le province di Brindisi e di Bari. Solo nel 2021 sono stati abbattuti più di 50 ulivi monumentali censiti dalla Regione Puglia. A dicembre, sono iniziati gli abbattimenti su grande scala di ulivi sulla Murgia dei Trulli e in Valle d'Itria che, ancora in corso, cambieranno per sempre il volto di questa terra e la vita dei suoi abitanti. Tutto questo mentre aumentano, si consolidano e si diffondono con successo le cure empiriche, i progetti e i protocolli scientifici che fanno ritornare a produrre piante di ulivo disseccate anche positive al batterio. Cosa sta accadendo in Puglia prima Regione per produzione di olio di oliva e per numerosità di ulivi plurisecolari? La trasformazione del paesaggio e del territorio, la compromissione dell'ambiente, la distruzione dell'economia locale, la perdita dell'identità, è un destino inesorabile?
Per rispondere a queste domande, dopo una breve contestualizzazione del fenomeno osservato e delle divergenze con quello propagandato, la riflessione seguirà due direttrici:
1. Il territorio. Le misure di lotta al batterio Xylella decise dalla Regione Puglia sono coerenti con il problema? Si sono rivelate risolutive? Quali effetti territoriali stanno producendo? Vi è correlazione fra modalità di utilizzo della terra e disseccamento? E fra disseccamento e uso di prodotti chimici?
2. L'ecosistema. Lo stato del suolo e delle altre matrici vitali può incidere sulla salute delle piante e, dunque, sul disseccamento? Perché è consentito reimpiantare solo ulivi non autoctoni e brevettati adatti al superintensivo? Come è possibile che un ulivo disseccato, anche positivo a Xylella, torni in pieno stato vegetativo e produttivo?
L'evento si svolgerà in forma di conferenza aperta al dibattito, a cui prenderanno parte:
MARGHERITA CIERVO, geografa, professore dell'Università di Foggia
MARGHERITA D'AMICO, biologa e fitopatologa, responsabile scientifico del Progetto SILECC – Sistemi di Lotta Ecocompatibili Contro il disseccamento degli ulivi
MARCO SCORTICHINI, batteriologo, Dirigente di ricerca del CREA – Centro di ricerca in Olivicoltura Frutticoltura e Agrumicoltura
The geography of Apulia, a land of centuries-old and thousand-years-old olive trees, is at the center of an epochal upheaval. The olive trees, even in full vegetative and productive status, continue to be cut down at an inexorable pace. In February 2021, requests were made for the removal of almost 4 million olive trees in Salento and a simultaneous request for replanting of the only two varieties allowed (Leccino, non-native and self-sterile and FS-17, patented), suitable for super-intensive and financed plants from public funds. In April, documented historical olive trees in the "Piana degli Ulivi millenari" between the provinces of Brindisi and Bari were felled for the first time. Only in 2021 more than 50 documented historical olive trees were felled. In December, large-scale felling of olive trees began on the "Murgia dei Trulli" and in "Valle d'Itria" that, still in progress, will forever change the face of this land and the life of its inhabitants. All this while empirical cures, scientific protocols and projects are successfully increasing, consolidating and spreading, reducing the disease and bring back to produce the declined olive trees, even positive for the bacterium. What is happening to Apulia, the first region for the production of olive oil and for the number of centuries-year-old olive trees? Is the transformation of the landscape and the territory, the environment damages, the destruction of the local economy, and the loss of identity an inexorable destiny? To answer these questions, after a brief contextualization of the observed phenomenon and the differences with the one propagandized, the reflection will follow two directions: 1. The territory. Are the control measures against the Xylella bacterium decided by the Apulia Region consistent with the problem? Were they found to be decisive? What territorial effects are they producing? Is there a correlation between land use and olive decline? And between plant decline and the use of chemicals? 2. The ecosystem. Can soil health status and other life matrix affect plant health and, therefore, their decline? Why only non-native and patented olive trees suitable for super-intensive can be replanted? How is it possible that declined olive trees, even those infected by Xylella, return to a full vegetative and productive status?
---
Objectives: Mettere la ricerca geografica e il sapere territoriale "al servizio" della cittadinanza. Divulgare dati e analisi scientifiche per stimolare il dibattito pubblico che possa, dopo otto anni, esortare la Regione Puglia e il Governo nazionale ad aprire un confronto fra le diverse posizioni in ambito scientifico, per una valutazione sistemica delle misure adottate e dei loro effetti territoriali. L'urgenza di tale valutazione è data dall'irreversibilità degli impatti soprattutto sul paesaggio e sugli agro-ecosistemi caratteristici della Puglia.
Event language: italiano
Country: Italia
City: Foggia
Link (for online events): meet.google.com/mux-rmby-skg
Reference person: Margherita Ciervo
Role or Function: docente universitario
Those who organize are: accademici, ricercatori
Expected duration: circa 2 ore
Event program: 
MARGHERITA CIERVO, geografa, professore dell'Università di Foggia
MARGHERITA D'AMICO, biologa e fitopatologa, responsabile scientifico del Progetto SILECC – Sistemi di Lotta Ecocompatibili Contro il disseccamento degli ulivi
MARCO SCORTICHINI, batteriologo, Dirigente di ricerca del CREA – Centro di ricerca in Olivicoltura Frutticoltura e Agrumicoltura
Dibattito aperto al pubblico
Open access bibliography:
Ciervo M., 2021, "Puglia: un ecocidio incipiente", Rivista di Agraria, 9 luglio 2021, (www.rivistadiagraria.org/articoli/anno-2021/puglia-un-ecocidio-incipiente/ )
Ciervo M, D'Amico M., 2021, "Xylella, olivicoltura: quanto è dannosa per l'ambiente la Favolosa in intensivo?" (con Margherita D'Amico), Rivista di Agraria, 2 gennaio 2021, ISSN 1970-2639 (www.rivistadiagraria.org/articoli/anno-2021/xylella-olivicoltura-quanto-dannosa-lambiente-la-favolosa-intensivo/)
Ciervo M., 2021, L'approccio ecosistemico come strumento di mitigazione del rischio ambientale. Un'applicazione per la valutazione della gestione del "caso Xylella", in Geotema, Supplemento 2021, pp. 122-133 (https://www.ageiweb.it/geotema/wp-content/uploads/2021/06/GEOTEMA_S4_2021_11_Ciervo.pdf )
Ciervo M., 2020, Il disseccamento degli ulivi: evidenze, contraddizioni, anomalie, scenari. Un punto di vista geografico, Società Geografica Italiana, Roma, https://societageografica.net/wp/2020/11/06/geografia-a-libero-accesso-vol-2/
Ciervo M., 2019, Le comunità locali e il processo di salvaguardia del territorio. Il caso del Salento durante e dopo la cosiddetta "emergenza Xylella", in F. Pollice, G. Urso, F. Epifani, "Ripartire dal territorio. I limiti e le potenzialità di una pianificazione dal basso", Placetelling. Collana di Studi Geografici sui luoghi e sulle loro rappresentazioni, Vol.2, Università del Salento, Lecce, pp. 139-154, 2019 http://siba-ese.unisalento.it/index.php/placetelling/article/view/20438
Ciervo M., 2016, The olive quick decline syndrome (OQDS) diffusion in Apulia Region: an apparent contradiction according to the agricultural model, Belgeo, Belgian Journal of Geography, 4 | 2016, http://belgeo.revues.org/20290
Scortichini M. (2020), Xylella, nuovi protocolli di convivenza negli oliveti pugliesi, in «Rivista di frutticoltura e ortofloricoltura», 2, pp. 52-54.
Scortichini M. e Cesari G. (2019), An Evaluation of Monitoring Surveys of the Quarantine Bacterium Xylella Fastidiosa Performed in Containment a Buffer Areas of Apulia, Southern Italy, in «Applied Biosafety: Journal of ABSA International», 24, 2, pp. 96-99.
Scortichini M., Chen J., De Caroli M., D'Alessandro G., Pucci N., Modesti V., L'Aurora A., Petriccione M., Zampella L., Mastrobuoni F., Migoni D., Del Coco L., Girelli C. R., Piacente F., Cristella N., Marangi P., Laddomada F., Di Cesare M., Cesari G., Fanizzi F. P. e Loreti S. (2018), A Zinc, Copper and Citric Acid Biocomplex Shows Promise for Control of Xylella fastidiosa Subsp.pauca in Olive Trees in Apulia Region (Southern Italy), in «Phytopathologia Mediterranea», 57, 1, pp. 48-72.
Open video
– "Il Disseccamento degli Ulivi in Puglia" (di Lucia Uni e Margherita Ciervo), https://www.youtube.com/watch?v=IUBWAPxZGD8

– "La Xylella è una questione geopolitica, non solo ambientale" (22 luglio 2021), www.byoblu.com/2021/07/22/la-xylella-e-una-questione-geopolitica-non-solo-ambientale-margherita-ciervo/
– Documentario "Xylella, clima e veleni. La guerra agli ulivi", di Massimo Lauria e Checchino Antonini, trasmesso dalla TV Svizzera RSI News, 1 ottobre 2020, www.rsi.ch/news/oltre-la-news/Convivere-con-la-xylella-in-Salento-13442440.html
 – "Xylella in Puglia: la verità dietro al taglio degli ulivi – Speciale #TgTalk, di "Byoblu (27 febbraio 2020). www.byoblu.com/2020/02/27/xylella-in-puglia-la-verita-dietro-al-taglio-degli-ulivi-speciale-tgtalk/
VIDEO SULLE CURE CONTRO IL DISSECCAMENTO DELL'OLIVO IN PUGLIA
1) Botrugno_Manduria_marzo 2021
https://youtu.be/UMUd94wSpSE
2) Gioffreda_Alezio_Galatone_giugno 2019
https://www.youtube.com/watch?v=5zDef2ZoDS0
3) Giovannetti_san vito_ottobre 2020
www.brindisireport.it/video/videoservizio-rimedio-naturale-xylella-san-vito-dei-normanni.html    
4) Nutrixgold_Sanvito_ottobre 2021
https://www.youtube.com/watch?v=wy9PMx_z-k4
5) Scortichini_Nardò_Agrilinea 2019
https://www.youtube.com/watch?v=MQXC69JG
Rassegna stampa
LECCE CRONACA http://www.leccecronaca.it/index.php/2022/03/25/la-geografia-della-puglia-al-centro-di-uno-stravolgimento-epocale/
BRINDISI SERA. https://m.brindisisera.it/dettaglio.asp?id_dett=44093
VILLAGGIO GLOBALE. https://www.vglobale.it/2022/03/25/il-disseccamento-degli-ulivi-in-puglia-e-la-questione-xylella/
RIVISTA DI AGRARIA. https://twitter.com/AgrariaOrg
AGRONOTIZIE. https://agronotizie.imagelinenetwork.com/eventi-agricoltura/il-disseccamento-degli-ulivi-in-puglia-e-la-questione-xylella-a-otto-anni-dalla-proclamata-emergenza-a-che-punto-siamo-evento-online/74561
ASSOCIAZIONE "ATTUARE LA COSTITUZIONE"  https://www.facebook.com/Attuarelacostituzione2017/posts/1601823290154205
Rassegna stampa post-evento
VILLAGGIO GLOBALE. Xylella, si torna a parlare di erbicidi… https://www.vglobale.it/2022/04/11/xylella-si-torna-a-parlare-degli-erbicidi/
ID.U.N.522