GeoArti. Un percorso tra la Geografia e le Arti
---
The event will be: Online e in presenza; Online and in-person 
Short presentation of the event: in un "percorso" di cento minuti, durante i quali si alterneranno letture di brani narrativi ed epici, letture teatrali, esecuzioni musicali, illustrazioni pittoriche, proiezioni di brani filmici e saggi di danza, verrà messo in evidenza come la Geografia, fin dal suo costituirsi in sapere condiviso, abbia ispirato il complesso delle manifestazioni artistiche e sia strettamente connessa ad esse. L'evento si svolgerà presso il Teatro di Tor Bella Monaca in via Bruno Cirino 5 e vedrà attivamente impegnati soprattutto studenti ma anche ricercatori, non solo geografi.

In the form of a spectacle narrative, the event aims to dialogue with an audience of students, professor and citizens to understand how, throughout history, there has been a very close osmosis between geographical knowledge and the arts and their evolution. Also, how this relationship has been mediated, according to different filters and criteria, by the cartographic representation and geographic iconography, especially landscape, through fine examples of cartographies narrated and/or represented. The event will take place at Teatro di Tor Bella Monaca in via Bruno Cirino 5 and will see actively engaged mainly students but also researchers, not only geographers.
---
Objectives: nello spirito della Notte internazionale della Geografia, l'evento intende promuovere il sapere geografico tra il vasto pubblico e, in particolare, far riflettere su come ogni forma d'arte, dalla musica alla poesia, dalla letteratura al teatro, dalla danza alla pittura e al cinema, sia in relazione con la conoscenza del mondo e la sua interpretazione.

The event aims to highlight the relationship that geography has established with the complex of artistic manifestations since its establishment as shared knowledge: from epic literature to music, from poetry to painting, to cinema and beyond.
Event language: Italiano; Italian
Country: Italia; Italy
City: Roma; Rome
Link (for online events): https://www.youtube.com/c/Universit%C3%A0degliStudidiRomaTorVergata
Reference person: Simone Bozzato
Role or Function: Geografo
Reference Organization (if any): Dipartimento di Storia, Patrimonio culturale, Formazione e Società; Department of History, Humanities and Society
Those who organize are: Accademici, studenti, appassionati di Geografia, largo pubblico; Academics, students, Geography enthusiasts, general public;
Expected duration: circa 1 ora; about 1 hour.
Event program: Per prenotazioni cliccare l'immagine; To book your seat, click on the pic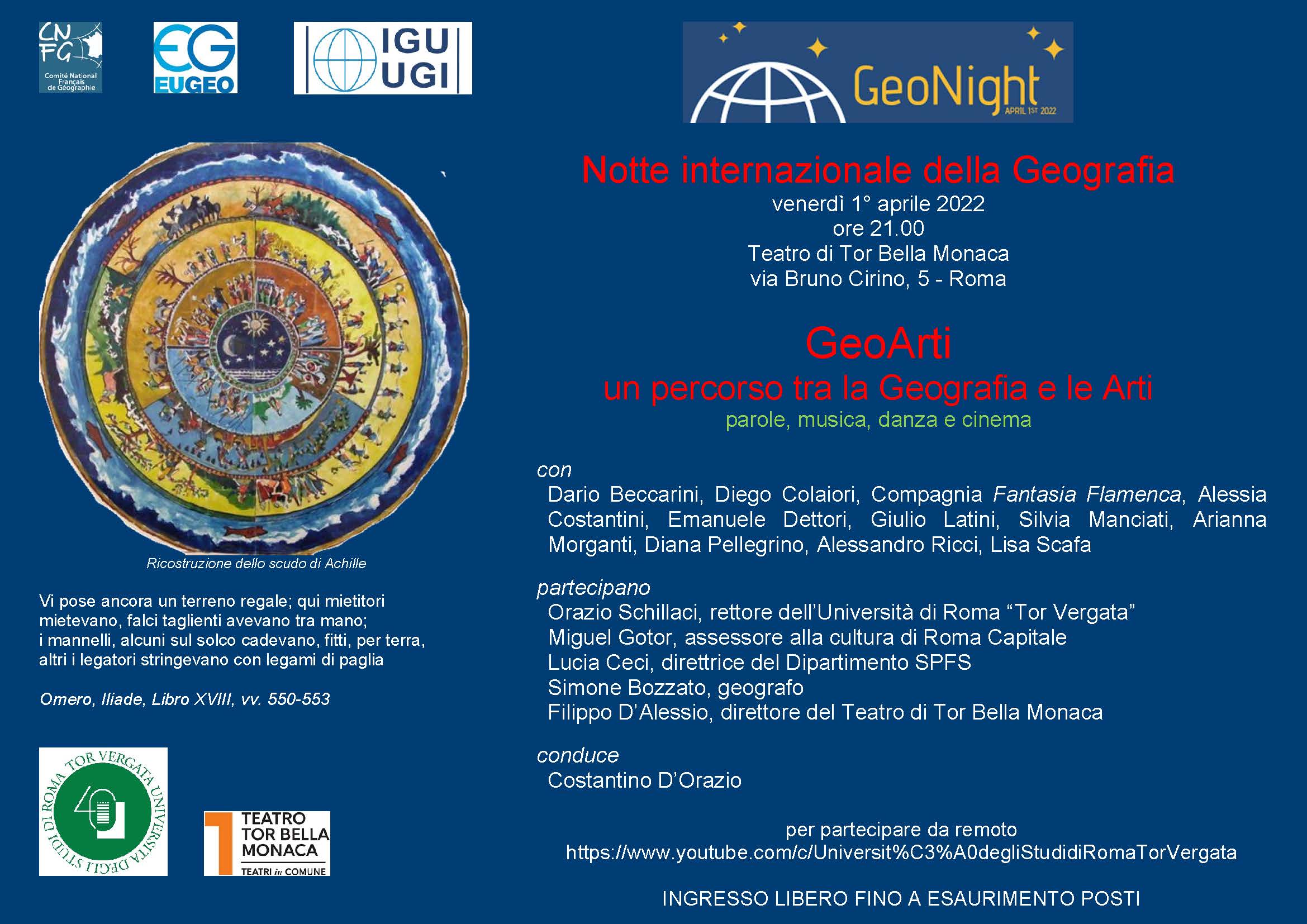 ID.U.N.562