GEO4YOUTH
---
 Future generazioni e spatial care
The event will be: In modalità mista (Online e in presenza)
Short presentation of the event: In occasione della Notte internazionale della geografia si propone un momento di dialogo tra i giovani geografi dell'Università degli studi di Bergamo. Inoltre, gli studenti e i laureati del corso magistrale in Geourbanistica racconteranno la propria esperienza di formazione e di lavoro post-laurea nel segno dell'analisi e della progettazione territoriale e urbana. L'obiettivo dell'evento è quello di promuovere le discipline geografiche e mettere in luce la loro importanza per la valorizzazione del territorio e per la comunicazione a supporto della governance.
On the occasion of the International Night of Geography we propose a moment of dialogue between young geographers of the University of Bergamo. In addition, students and graduates of the Master course in Geourbanistica will share their training and post-graduate work experience in the field of urban and territorial analysis and planning. The aim of the event is to promote geographic disciplines and highlight their importance for the enhancement of the territory and for communication in support of governance.
---
Objectives: L'evento si inserisce nell'ambito della Terza Missione dell'Università degli studi di Bergamo e ha l'obiettivo di promuovere le ricerche svolte dai giovani geografi nei contesti urbani ed extraurbani.
Event language: italiano
Country: Italia
City: Bergamo
Link (for online events): https://bit.ly/Geo4youth
Reference person: Sara Belotti
Role or Function: docente a contratto presso l'Università degli studi di Bergamo
Those who organize are: accademici, studenti, giovani ricercatori
Expected duration: circa 2 ore
Event program: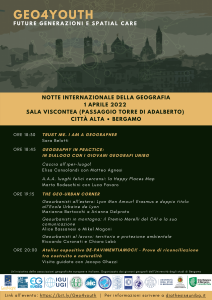 ID.U.N.568