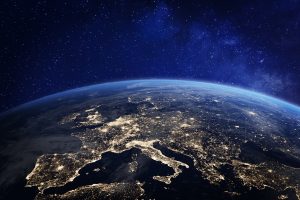 "Földrajz az egész világ…"
---
The event will be: "Élő", személyes jelenléttel (amennyiben a Covid előírások megengedik, különben nem kerül megrendezésre)
Short presentation of the event:
"FÖLDRAJZ AZ EGÉSZ VILÁG…"
Soproni Széchenyi István Gimnázium, 9400 Sopron, Templom utca 26.
Díszterem:
16.00 A vízről, és a víz útjáról Sopronban
Előadó: Rádonyi László – Soproni Vízmű Zrt. vezérigazgatója
17.15 Bemutatkozik a Zöld Sopron Egyesület
Előadók: Kónya Máté – Kókai Márk – Szittyai Gergő (a SZIG 11.A osztályos tanulói)
17.30 A divatipar szennyese
Előadók: Tóth László (földrajz-történelem szakos középiskolai tanár, Révai Miklós Gimnázium, Győr) – Treml Júlia (gimnáziumunk volt tanulója, geográfus, Széchenyi Egyetem, Győr)
Az előadásokkal párhuzamosan további programokat kínálunk:
16.00-18.30 Geocaching kalandjáték Sopron belvárosában
Hat útvonalon, hatféle játékkal várjuk az érdeklődőket. Egy játék időtartama 45-60 perc. Mi biztosítjuk a terepi, nagy pontosságú GPS készülékeket. Figyelem! Érvényes személyi igazolványt és lakcímkártyát kérünk! A játék ötletgazdái és játékmesterei: A Soproni Széchenyi István Gimnázium 11. évfolyamos földrajz faktos diákjai. A játék a 205-ös teremből indul. Tarts velünk!
16.00-18.30 GeoGames: Földrajzos játékterem a Soproni Széchenyi István Gimnázium 9.A és a 9.D osztályának szervezésében, a 204-es és a 206-os teremben. Tanulóink saját készítésű és az interneten szabadon elérhető rövid, szórakoztató játékokat gyűjtöttek "csokorba". Játssz velünk!
---
Objectives: A földrajz népszerűsítése Sopronban és vonzáskörzetében.
Event language: magyar
Country: Magyarország
City: Sopron
Link (for online events): [it will be displayed here as soon as possibile]
Reference person: SIMON, György
Role or Function: földrajz szakos középiskolai tanár, munkaközösség-vezető
Reference Organization (if any):
Those who organize are: földrajz szakos tanárok, földrajz faktos diákok
Expected duration: kb. 3 óra
Event program: [to be be displayed here as soon as possibile]
ID.U.N.573