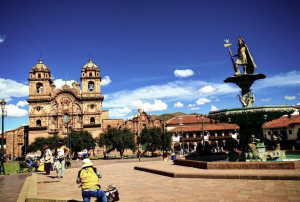 Moje izkušnje s turizmom na raznih koncih sveta
1. APRIL, 2022, 18:30
---
My experiences with tourism in different parts of the world
The event will be: po spletu
Short presentation of the event: Različne turistične znamenitosti se razlikujejo tudi po tem, kako jih znajo na območju, kjer se nahajajo "ponuditi in zaračunati" obiskovalcem ter kakšni so v tem smislu multiplikativni učinki, ki jih ta znamenitost ima na različne gospodarske dejavnosti območja. Predavanje je namenjeno predstavitvi osebnih vtisov ob obisku Zimbabveja leta 1996, Natala v Braziliji leta 2005, Bolivije in Peruja leta 2017 in indijske zvezne države Karnataka leta 2020.
Different tourist attractions also differ in how they are "offered and charged" to visitors in the area where they are located and what are the multiplicative effects that this attraction has on the various economic activities of the area. The presentation is intended to present personal impressions when visiting Zimbabwe in 1996, Natal in Brazil in 2005, Bolivia and Peru in 2017 and the Indian state of Karnataka in 2020.
---
Objectives: Na primeru turizma pokazati enega od načinov, na katere geograf lahko opazuje in zaznava procese v pokrajini!
Event language: slovenski
Country: Slovenija
City: Prevoje pri Šentvidu
Link (for online events): povezava

Reference person: dr. Stanko Pelc
Role or Function: član DUGS
Reference Organization (if any):
Those who organize are: strokovnjaki
Expected duration: približno eno uro
Event program: The event will start with the presentation and will have the discussion at the end.

ID.U.N.577