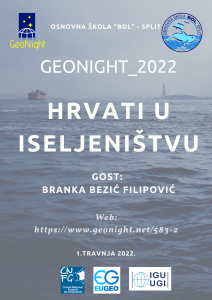 Hrvati u iseljeništvu
---
Croatian Diaspora
The event will be: On-site, 1.4.2022., 9.30h
Short presentation of the event (HR):
Teško je utvrditi točan broj Hrvata koji žive izvan Hrvatske. Broj osoba hrvatskog podrijetla koji žive u inozemstvu gotovo je jednak broju Hrvata koji žive u Hrvatskoj. Još uvijek čekamo službene rezultate posljednjeg popisa stanovništva.
Pripadnici dijaspore mogu se podijeliti u tri skupine:
– zemlje u kojima su jedan od konstitutivnih naroda (Bosna i Hercegovina);
– države u kojima se službeno ili neslužbeno smatraju nacionalnom manjinom (Austrija, Bugarska, Crna Gora, Češka, Italija, Kosovo, Mađarska, Makedonija, Rumunjska, Slovačka, Slovenija, Srbija); i
– druge zemlje u koje su se Hrvati kroz povijest iseljavali u manjem ili većem broju.
Je li iseljavanje nužno i danas? Čeka li nas bolje budućnost izvan domovine? Nadamo se da će na na ta pitanja dati odgovore Branka Bezić Filipović, voditeljica splitske podružnice Hrvatske matice iseljenika u mirovini.
Short presentation of the event (ENG):
The exact numbers of Croats living outside Croatia are hard to determine. The number of persons of Croatian origin living abroad is almost equal to the number of Croats living in Croatia. We are still waiting for the last census results.
The diaspora members can be divided into three groups:
– countries in which they are one of the constituent nations (Bosnia and Herzegovina);
– countries in which they are officially or unofficially considered to be a national minority (Austria, Bulgaria, Montenegro, Czech Republic, Italy, Kosovo, Hungary, Macedonia, Romania, Slovakia, Slovenia, Serbia); and
– other countries to which Croats emigrated in smaller or greater numbers throughout the history. 
Is migration a neccessity? Do we have a brighter future abroad and overseas? We hope Branka Bezić Filipović, a retired Head of Split branch of Croatian Heritage Foundation, will provide us answers to these questions.
---
Objectives: Razvijanje kritičkog mišljenja, analiza podataka i grafičkih priloga, promišljanje o životu u dijaspori i uzročno-posljedičnim vezama migracijskih valova te razvoj odnosa s Hrvatima u dijaspori.
Event language: hrvatski
Country: Croatia / Hrvatska
City: Split
Link (for online events): događaj uživo
Reference person: Tihana Modrić
Role or Function: učitelj
Reference Organization (if any): Osnovna škola Bol – Split
Those who organize are: predstavnici akademske zajednice, učitelj geografije / geography teacher
Expected duration: oko 2 sata
Event program: predavanje i diskusija
_______________________________________________________________________________________________
Prilikom obilježavanja GeoNight 2022, Branka Bezić Filipović, voditeljica splitske podružnice Hrvatske matice iseljenika u mirovini, je održala predavanje na temu HRVATI U ISELJENIŠTVU
s osobitim naglaskom na Hrvate u Južnoj Americi – Čileu. Ovo je i prigodna tema budući da se bliži dan obilježavanja obljetnice 30 godina uspostave diplomatskih i kulturnih odnosa Hrvatske s Republikom Čile koju ćemo i prigodno obilježiti u našoj školi budući da godinama surađujemo sa školama u Antofagasti i Punta Arenasu.
Predavanje je bilo moguće pratiti i uživo, a dio snimke je dostupan na dolje navedenim poveznicama.
Photo Gallery of the activities:
Video-materials:
Lecture: https://youtu.be/gqlLFWJCyH8
Short presentation: https://youtu.be/W3IJV09rOHU
ID.U.N.583