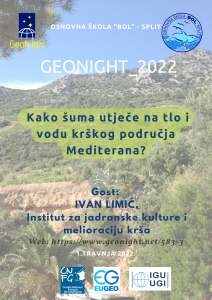 Kako šuma utječe na tlo i vodu krškog područja Mediterana?
---
The event will be: Uživo uz prisustvo sudionika i može se pratiti online live prijenosom na  GeoNight_2022 Friday, April 1 · 8:15 – 9:15am Google Meet joining info Video call link:
https://meet.google.com/qsx-butk-hnu
Short presentation of the event: Doktorand s Instituta za jadranske kulture i melioraciju krša, Ivan Limić, predstavit će učenicima što se događa s tlom u slučaju deforestacije i degradacije. 
Erozija tla i obnova vegetacije na krškom području predstavlja golemi gospodarski problem koji je najizraženiji na području Sredozemlja. Krš je moguće definirati kao teren sastavljen od vapnenaca i dolomita, pretežito od topivih stijena koje karakteriziraju ponori, ponornice, špilje, jame… Krški ekosustav pruža blagodat za ljude koji žive u njemu ili ga povremeno koriste jer podržava formiranje tla, sudjeluje u opskrbi čistom i zdravom slatkom vodom, utječu na reguliranje klime, ublažava poplave, a šume štite tlo od erozije.
---
Objectives: uočiti važnost vegetacije, ekološku vrijednost šuma i voda, upoznati se s vegetacijom zavičaja i Mediterana
Event language: hrvatski
Country: Croatia / Hrvatska
City: Split
Link (for online events): događaj uživo, 1.4.2022. u 8h
Reference person: Tihana Modrić
Role or Function: Učitelj
Reference Organization (if any): Osnovna škola Bol – Split, Institut za mediteranske kulture i melioraciju krša – Ivan Limić
Those who organize are: predstavnici akademske zajednice, zaljubljenici u geografiju, učitelj geografije
Expected duration: oko 2 sata
Event program: predavanje i diskusija
______________________________________________________________
Photo gallery of the activities:
Učenici su ponovili obilježja klime i meteoroloških uvjeta na području Mediterana. Uočili su da je 24% Hrvatske pod mediteranskom šumskim ekosustavima. Uočili su povezanost klime, tla i vegetacije. Ponovili su obilježja tla Hrvatske i vidjeli kako izgleda profil tla. Na uzorcima  su imali priliku uočiti različit sastav i boju tla s obzirom na njegovu dubinu. Naučili su razliku između  organskog i mineralnog sloja tla, kako nastaje humus i kako ga prepoznati u šumi.
Zaključili su da su šume ugrožene zbog povećanja temperature, čestih požara, erozije tla i zagađenja zraka. Osobito je naglasak stavljen na važnost šumskog ekosustava u očuvanju tla i vodnih izvora. Drveća svojim krošnjama štite tlo od udara kišnih kapi, tako se dio oborina zaustavlja unutar krošnje, a ostatak kiše prokapljivanjem dospijeva na šumsko tlo. Dio oborina se zatim infiltrira kroz šumsku prostirku, u dublje slojeve tla, a dio dospijeva u površinske i podzemne vode.
Šumska prostirka koja pokriva tlo važna je karika u lancu kruženja tvari  te ima značajnu ulogu promjenama pH-vrijednosti, upijanju vode, zadržavanju hranjivih tvari i slično.
Pokusima se dokazivala prisutnost vapnenca u tlu i dokazivala propusnost krškog reljefa, što je učenicima bilo osobito zanimljivo.
Također smo na GoogleMeet-u imali direktan prijenos aktivnosti na gore navedenom linku.
Video-materijal: https://youtu.be/JnspNeibjMU
ID.U.N.583