MapoFaktura 2022
---
MapoFaktura 2022 to już trzecia edycja wydarzenia organizowanego przez studentów turystyki i rekreacji Wydziału Nauk Geograficznych Uniwersytetu Łódzkiego. W tym roku nauczymy się jak wykorzystać ogólnodostępne dane przestrzenne na potrzeby skutecznego zarządzania sytuacjami kryzysowymi, nawet tak poważnymi jak skutki działań wojennych czy pandemii. Zaczniemy od umiejętności programistycznych, dzięki którym będziemy wiedzieć jak wydobyć informacje zawarte w popularnym, społecznościowym serwisie mapowym OpenStreetMap. Praca z takimi danymi to następny krok. Wykorzystamy do tego celu otwartą i darmową aplikację QGIS. Mając do dyspozycji takie narzędzia spróbujemy przygotować analizy przestrzenne na potrzeby rozwiązania sytuacji kryzysowych. Tych w obecnym czasie jest niestety dużo. Najważniejszym zagrożeniem jest oczywiście inwazja Rosji na Ukrainę. O wyborze ostatecznego tematu do pracy zdecydujemy bezpośrednio przez MapoFakturą. Do dzieła!
MapoFaktura 2022 this is a third edition of the event organized by the students of tourism and recreation programme at the Faculty of Geographical Sciences, University of Lodz (Poland). This year we are going to learn how to use open-access sources of spatial data to efficiently manage crisis events, including effects of military actions or pandemic. We are going to start with a basic programming course. Using programming skills we will collect the data from the popular collaborative geographic project OpenStreetMap. Processing the data is the next step of our work. For that purpose, we are going to use free and open-source QGIS software. By the application of mentioned tools we will try to deliver spatial analysis to propose solutions of identified crisis events. Unfortunately, the events of that kind are plenty for now. Obviously, the most serious is Russian invasion of Ukraine. Specific task will be assigned just before MapoFaktura. Let's get down to work!
Program i miejsce wydarzenia

/ Event programme and venue

Część I – Warsztaty: Stacjonarnie – Sobota, 26 marca 2022, godz. 10.00 / Part I – Workshops: In presence – Saturday, March 26, 2022, 10.00 AM CET

Część II – Prezentacja w ramach inicjatywy GeoNight: Zdalnie – Piątek, 1 kwietnia 2022, godz. 18.00 / Part II – Presentation under umbrella of GeoNight initiative: Online – Friday, April 1, 2022, 6.00 PM CET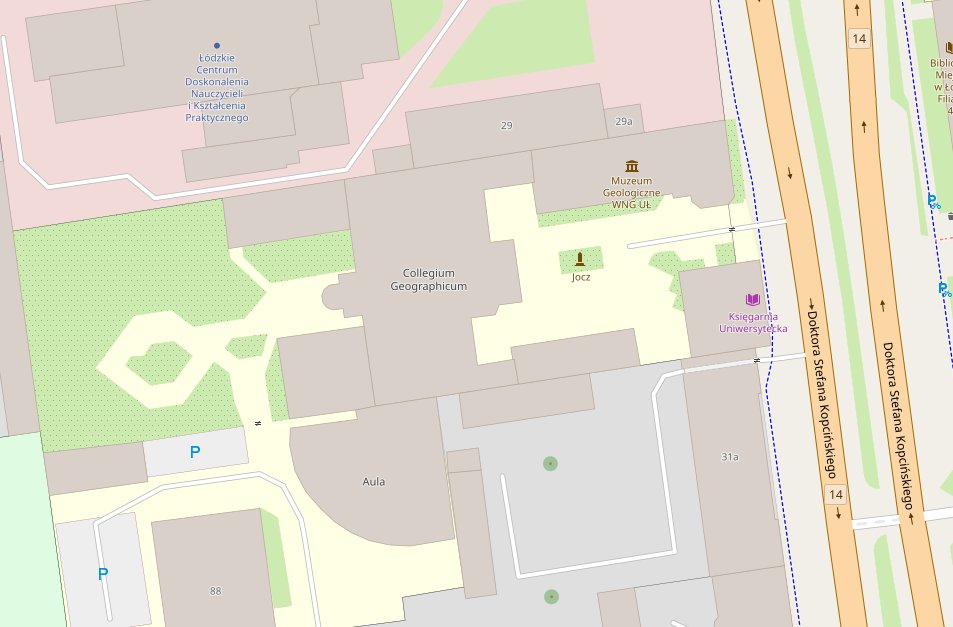 Cele

/ Objectives

Dowiemy się więcej o OpenStreetMap. Nauczymy się podstaw programowania. Dowiemy się dużo o przestrzennych bazach danych. Poznamy środowisko QGIS. Nauczymy się metod analizy przestrzennej na potrzeby skutecznego zarządzania zjawiskami kryzysowymi.

We will get to know OpenStreetMap. We will develop our programming skills. We will learn about spatial databases. We will get to know QGIS software. Finally, we will learn how to apply spatial data analysis to efficiently manage crisis events.
Język wydarzenia

/ Language of the event

Polski / Polish
Organizatorzy i partnerzy

/ Organizers and partner institutions
Jesteśmy na Facebooku

/ Find us on Facebook

https://www.facebook.com/MapoFaktura
Rejestracja

/ Registration