Avilés Virtual Tour Sp/En/Fr
Short presentation of the event:
 Visita virtual que describe la construcción del paisaje urbano de la ciudad de Avilés
(EN) Virtual tour describing the construction of the urban landscape of the city of Avilés
(FR) Visite virtuelle décrivant la construction du paysage urbain de la ville d'Avilés
Tour Virtual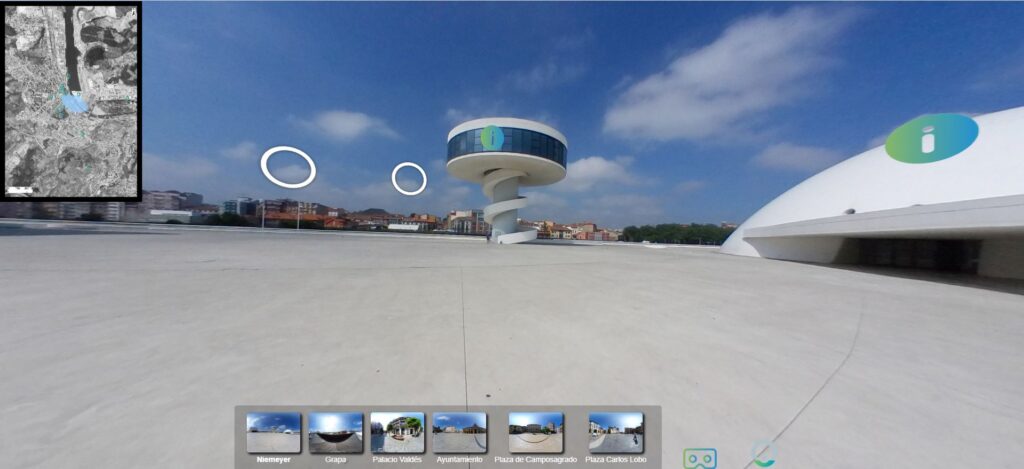 click en la imagen para el tour
(En) cliquez sur l'image pour la visite/ (Fr) click in the image for the tour
Si tiene problemas con el enlace anterior por favor (En) If you have problems with the above link please / (Fr)  Si vous rencontrez des problèmes avec le lien ci-dessus, veuillez Virtual Tour
¿QUÉ ES LA REALIDAD VIRTUAL?
Se trata de un entorno tridimensional simulado, que propicia un efecto de inmersión en un entorno interactivo generado por ordenador, y que permite a los usuarios una aproximación a la realidad similar a la que experimentan cuando interactúan normalmente con el mundo físico.
(EN) WHAT IS VIRTUAL REALITY? It is a simulated three-dimensional environment, which provides an immersive effect in an interactive environment generated by a computer, and which allows users an approach to a reality similar to what they experience when they normally interact with the physical world.
(Fr) QU'EST-CE QUE LA RÉALITÉ VIRTUELLE? Il s'agit d'un environnement tridimensionnel simulé, qui fournit un effet immersif dans un environnement interactif généré par un ordinateur, et qui permet aux utilisateurs une approche de la réalité similaire à ce qu'ils vivent lorsqu'ils interagissent normalement avec le monde physique.
TIPOS DE REALIDAD VIRTUAL
Hay dos tipos de Realidad Virtual: la basada en recorridos animados e interactivos, elaborados con imágenes 360º que se enlazan y a las que se añade información (hotspots); y la conocida como "inmersión real", que crea la sensación de presencia en un entorno simulado y que requiere del uso de dispositivos adicionales, principalmente HMD.
(EN) TYPES OF VIRTUAL REALITY There are two types of Virtual Reality: the one based on animated and interactive tours, made with 360º images that are linked and to which information is added (hostposts); and what is known as "real immersion", which creates the sensation of presence in a simulated environment and requires the use of additional devices, mainly HMD.
(Fr) TYPES DE RÉALITÉ VIRTUELLE Il existe deux types de Réalité Virtuelle: celle basée sur des visites animées et interactives, réalisées avec des images 360º qui sont liées et auxquelles des informations sont ajoutées (hostposts); et ce que l'on appelle «l'immersion réelle», qui crée la sensation de présence dans un environnement simulé et nécessite l'utilisation d'appareils supplémentaires, principalement HMD.
¿QUÉ SON LOS TOURS VIRTUALES?
Los tours o recorridos virtuales son la simulación de un lugar real, mediante el uso una secuencia de imágenes en 360 grados unidas y encadenadas mediante el empleo de software, que permite recrear un entorno completamente virtual a través del que es posible desplazarse e interactuar.
(EN) WHAT ARE VIRTUAL TOURS? Tours or virtual tours are the simulations of a real place, through the use of a sequence of 360-degree images joined and chained through the use of software, which allows recreating a completely virtual environment through which it is possible to move and interact.
(Fr) QUE SONT LES VISITES VIRTUELLES? Les visites ou visites virtuelles sont la simulation d'un lieu réel, à travers l'utilisation d'une séquence d'images à 360 degrés jointes et enchaînées grâce à l'utilisation de logiciels, ce qui permet de recréer un environnement complètement virtuel à travers lequel il est possible de se déplacer et d'interagir.
TIPOS DE TOURS VIRTUALES
Existen básicamente dos tipos: los fijos y los interactivos. En los primeros el usuario no puede interactuar, por lo que el montaje del recorrido determina lo que puede ver; en los segundos el usuario puede interactuar con lo que está viendo, desplazándose entre las imágenes en 360 grados, y accediendo a la información que se haya incorporado a las mismas en forma de hotspots.
(EN)  TYPES OF VIRTUAL TOURS There are basically two types: fixed and interactive. In the former, the user cannot interact, so the montage of the tour determines what he can see; in seconds the user can interact with what he is seeing, moving between the images in 360 degrees, and accessing the information that has been incorporated into them in the form of a hostpost.
(Fr) TYPES DE VISITES VIRTUELLES Il existe essentiellement deux types: fixe et interactif. Dans le premier cas, l'utilisateur ne peut pas interagir, de sorte que le montage de la visite détermine ce qu'il peut voir; en quelques secondes, l'utilisateur peut interagir avec ce qu'il voit, se déplacer entre les images à 360 degrés et accéder aux informations qui y ont été incorporées sous la forme d'un hostpost.
 EL USO DE LOS TOURS VIRTUALES EN GEOGRAFÍA
Las visitas y recorridos virtuales son una forma fácil, e interactiva, de recorrer un territorio y verlo desde todas las perspectivas posibles. En una visita virtual el usuario percibe el espacio con una vista totalmente verosímil y natural, tal como es en la realidad, con la sensación de estar allí. En Geografía constituyen un recurso de primer orden como complemento de las tradicionales salidas de campo. Pero, además, en un contexto como el provocado por la COVID 19, los itinerarios geográficos virtuales se convierten en una alternativa para cubrir el hueco generado en la programación docente por la imposibilidad de realizar salidas de campo.
(EN) THE USE OF VIRTUAL TOURS IN GEOGRAPHY Virtual visits and tours are an easy and interactive way to explore one territory and see it from all possible perspectives. In a virtual visit, the user perceives the space with a totally realistic and natural view, as it is in reality, with the sensation of being there. In Geography they constitute a first-rate resource as a complement to the traditional field trips. But, in addition, in a context such as that caused by COVID 19, virtual geographic itineraries become an alternative to cover the gap generated in the teaching program due to the impossibility of carrying out field trips.
(Fr) L'UTILISATION DES VISITES VIRTUELLES EN GÉOGRAPHIE Les visites et visites virtuelles sont un moyen simple et interactif d'explorer un territoire et de le voir sous tous les angles possibles. Lors d'une visite virtuelle, l'utilisateur perçoit l'espace avec une vue totalement réaliste et naturelle, tel qu'il est en réalité, avec la sensation d'être là. En géographie, ils constituent une ressource de premier ordre en complément des visites de terrain traditionnelles. Mais, en plus, dans un contexte tel que celui engendré par COVID 19, les itinéraires géographiques virtuels deviennent une alternative pour combler le vide généré dans le programme d'enseignement en raison de l'impossibilité de réaliser des sorties sur le terrain.
EL OBSERVATORIO DEL TERRITORIO
El Observatorio del Territorio es un centro de investigación de la Universidad de Oviedo, adscrito al Departamento de Geografía, que desarrolla, entre otras actividades, la generación de contenidos de Realidad Aumentada y de Realidad Virtual. Dichos contenidos se orientan a varios tipos de aplicaciones: la docente, mediante la elaboración de contenidos para impartir en el Aula Virtual creada al efecto; la turística, mediante la generación de contenidos en forma de recorridos turísticos virtuales; y la gestión del patrimonio, mediante la puesta en valor de elementos de interés natural o cultural con vistas a la difusión de los mismos y a la contribución a su desarrollo sostenible.
(EN)  THE TERRITORIAL OBSERVATORY The Territorial Observatory is a research center of the University of Oviedo, attached to the Department of Geography, which develops, among other activities, the generation of Augmented Reality and Virtual Reality content. Said contents are oriented to several types of applications: the teaching, by means of the elaboration of contents to teach in the Virtual Classroom created for this purpose; tourism, through the generation of content in the form of virtual tourist tours; and heritage management, through the enhancement of elements of natural or cultural interest with a view to disseminate them and contribute to their sustainable development.
(Fr) L'OBSERVATOIRE DU TERRITOIRE L'Observatoire du Territoire est un centre de recherche de l'Université d'Oviedo, rattaché au Département de Géographie, qui développe, entre autres activités, la génération de contenu de Réalité Augmentée et de Réalité Virtuelle. Lesdits contenus sont orientés vers plusieurs types d'applications: l'enseignement, au moyen de l'élaboration de contenus à enseigner dans la Classe Virtuelle créée à cet effet; le tourisme, grâce à la création de contenu sous forme de visites touristiques virtuelles; et la gestion du patrimoine, par la valorisation d'éléments d'intérêt naturel ou culturel en vue de leur diffusion et de contribuer à leur développement durable.
Más información/More Info /Plus d'informations   info@observatoriodelterritorio.es
Objectives: Dissemination of the Cultural Landscape of Avilés.
To release the techniques of Vitual Reality / Augmented Reality for the diffusion of landscape
Event language: spanish, english and french
Country: España
City: Avilés
The event will be: Online
Link (for online events): [Virtual Tour]
Reference person: Daniel Herrera Arenas / David Olay Varillas / Felipe Fernández García
Role or Function: university professor
Reference Organization (if any):
Those who organize are: Academics
Expected duration: around 30 minutes