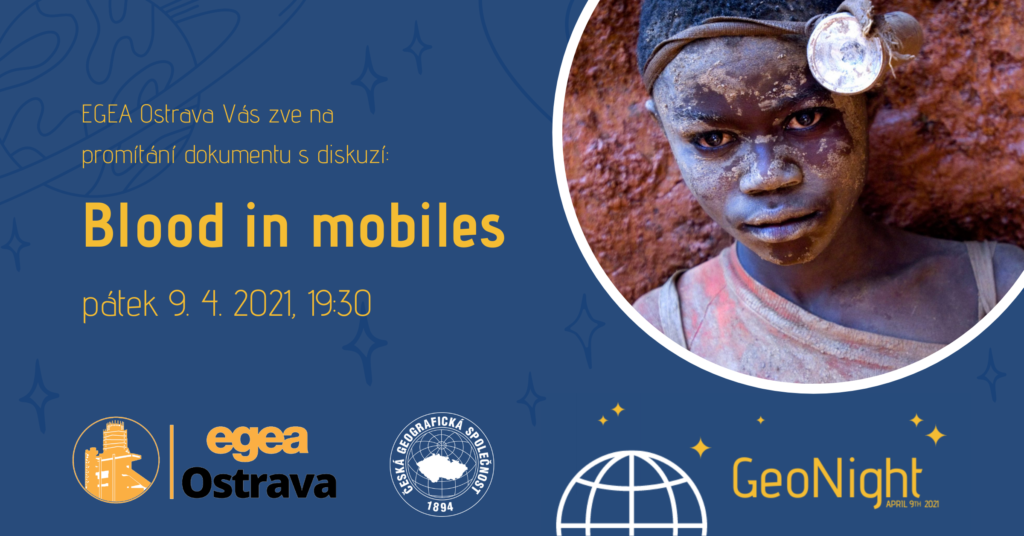 Blood in mobiles: Short lecture with a documentary film / Krev v mobile: Krátká přednáška s promítáním
Date and time: 9. 4. 2021, 19:30 CEST
Short presentation of the event:
ENG: Rare minerals that come from illegal mines can be found in our mobile phones. In the Democratic Republic of the Congo there is, because of these minerals, one of the greatest wars since World War II. A short lecture on this problem will be complemented by a documentary film from the international festival "One World" organized by People in Need (Člověk v tísni). The lecture and the documentary will be broadcasted on the EGEA Ostrava Facebook page.
Popis události:
CZ: Přemýšleli jste někdy nad tím, co všechno se musí nacházet ve vašem telefonu, aby správně fungoval 
 Napadlo by vás někdy, že určité materiály, mohou pocházet z nelegálních dolů, ve kterých pracují děti za nelidských podmínek 

Zveme vás na krátkou přednášku a případnou diskusi, kterou doplní dokument s názvem "Krev v mobilech". Dokument bude vysílán v rámci platformy "Promítej i ty", za kterou stojí festival Jeden Svět, který nabízí největší přehlídku dokumentárních filmů o lidských právech na světě.
Objectives: Raise awareness about illegal mining of minerals in Congo among the public. / Zvýšit povědomí o ilegální těžbě minerálů v Konžské demokratické republice v rámci veřejnosti.
Event language: Czech / čeština
Country: Czechia
City: Ostrava
The event will be: online
Link / odkaz:
Blood in mobiles will be streamed online via Facebook fanpage of EGEA Ostrava – https://www.facebook.com/events/137632734927228/.
Promítání a přednáška Krev v mobilech bude zprostředkována skrz Facebook EGEA Ostrava živým přenosem – https://www.facebook.com/events/137632734927228/.
Reference person: Daniela Kebertová
Role or Function: contact person of EGEA (member of Czech Geographical Society)
Reference Organization: EGEA Ostrava, Czech Geographical Society
Those who organize are: Students
Expected duration: around 1 hour