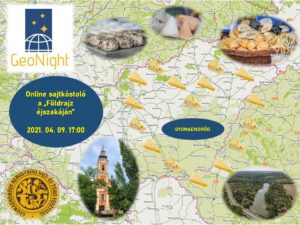 Cheese tasting in Gyomaendrőd – with heart and soul – Sajtkóstolás Gyomaendrődön – szívvel, lélekkel
Short presentation of the event: Gyomaendrőd a "sajt városa". Ezt erősítve kerül megrendezésre az első online sajtkóstolás, ahol a résztvevők egy előre meghatározott sajtsort tudnak megkóstolni vagy csak meghallgatni azok történetét, hátterét, szerepüket a gasztronómiában és 1-2 kulisszatitkot a sajtok világából.
Gyomaendrőd is the "city of cheese". To reinforce this, an online cheese tasting will be held, where participants can taste a pre-defined set of cheeses or just listen to their history, background, their role in gastronomy and 1-2 backstage secrets from the world of cheeses.
Objectives: A hazai sajtkultúra erősítése
Event language: Magyar
Country: Magyarország
City: Gyomaendrőd
The event will be: Online
Link (for online events): https://fb.me/e/cJuXmgns4
Reference person: Dr. Kovács Gyöngyi
Role or Function: Egyetemi tanársegéd, rendezvényszervező
Reference Organization (if any): https://gyomaimuvhaz.hu/
Those who organize are: Kutatók, oktatók, A földrajz barátai
Expected duration: kb. 1 óra
Event program: https://fb.me/e/cJuXmgns4