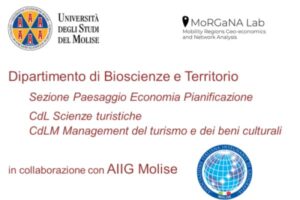 Dalla patrimonializzazione della transumanza alla riscoperta del
paesaggio tratturale come opportunità di rigenerazione territoriale
| Università del Molise, Termoli (Italia) |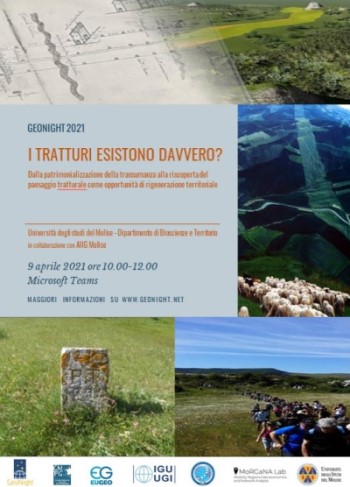 Un webinar sulla ricerca scientifica e sui metodi geografici per la ricostruzione fisica e la restituzione virtuale dei tracciati tratturali.
Obiettivo: la consapevolezza e la valorizzazione del patrimonio territoriale legato alle vie della transumanza.
Nell'incontro saranno presentati metodi e strumenti geografici innovativi per lo studio e l'analisi dei paesaggi tratturali. Verranno mostrati alcuni prodotti realizzati nel Laboratorio di ricerca MoRGaNA del Dipartimento di Bioscienze e Territorio dell'Università del Molise. Saranno raccontate esperienze di didattica sul campo realizzate in collaborazione con le scuole.
Interverranno: Stefania Scippa (Direttrice DiBT), Monica Meini (Responsabile MoRGaNA Lab), Marco Petrella (Delegato all'Orientamento DiBT, sede di Termoli), Giuseppe Di Felice (Assegnista di ricerca, DiBT), Valentina Paoletti (Presidente AIIG Molise), Antonella Vitone (Laureata Unimol-Management del Turismo e dei Beni Culturali).
Nella parte finale dell'evento sarà presentata una campagna social, #iltratturononesiste, concepita in collaborazione con AIIG Molise, allo scopo di sensibilizzare alla conoscenza dei segni materiali del tratturo, alla lettura dei suoi significati, alla condivisione di esperienze di fruizione: cammini, escursioni, nuove modalità di viverlo.
Agli insegnanti e studenti partecipanti che ne faranno richiesta sarà rilasciato l'attestato di partecipazione.
Per informazioni: monica.meini@unimol.it; marco.petrella@unimol.it
Clicca qui per partecipare all'evento (dalle ore 10)
Oppure scarica la locandina e clicca su Microsoft Teams
From the heritage of transhumance to the rediscovery of
the sheep-track landscape as an opportunity for territorial regeneration
A webinar on scientific research and geographic methods for the physical reconstruction and virtual restitution of the sheep tracks.
Objective: awareness and enhancement of the territorial heritage linked to transhumance routes.
During the meeting innovative geographical methods and tools for the study and analysis of sheep-track landscapes will be presented. Some products realised in the MoRGaNA research laboratory of the Department of Biosciences and Territory of the University of Molise will be shown. Experiences of field teaching carried out in collaboration with schools will be described.
Speakers: Stefania Scippa (DiBT Director), Monica Meini (MoRGaNA Lab Manager), Marco Petrella (DiBT Orientation Delegate, Termoli campus), Giuseppe Di Felice (DiBT researcher), Valentina Paoletti (AIIG Molise President), Antonella Vitone (Unimol graduate – Tourism and Cultural Heritage Management).
In the final part of the event, a social campaign, #iltratturononesiste, conceived in collaboration with AIIG Molise, will be presented, with the aim of raising awareness of the material signs of the sheep trail, the reading of its meanings, the sharing of experiences of use: walks, excursions, new ways of experiencing it.
Participating teachers and students will receive a certificate of participation.
For information: monica.meini@unimol.it; marco.petrella@unimol.it
Click here to take part in the event (from 10 am Central Europe Time)
You can also download the leaflet and click on Microsoft Teams