Scroll down for English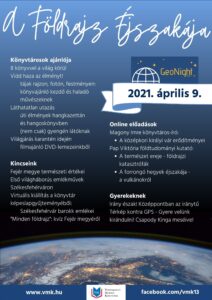 A székesfehérvári Vörösmarty Mihály könyvtár több programajánlattal csatlakozik a Földrajz Éjszakájához.
A programok a könyvtár weboldalán és Facebook oldalán jelennek meg:
Ajánlók a honlapon és Facebook oldalunkon dokumentumainkból: 
8 

k

önyvvel a világ 

k

örül, 
Vidd haza az élményt! – tájak rajzon, fotón, festményen: 

k

önyvajánló kezdő és haladó művészeknek,

Láthatatlan utazás – úti élmények hangkazettán és hangoskönyvön (nem csak) gyengén látóknak,

Világjárás karantén idején – filmajánló DVD lemezeinkből.
Elektronikus tananyag a honlapra: 
Fejér megye természeti értékei 

Első világháborús emlékművek Székesfehérváron

Virtuális kiállítás a 

k

önyvtár 

k

épeslapgyűjteményéből: Székesfehérvár barokk emlékei
"Minden földrajz"  – kvíz Fejér megyéről
Földrajzi nevek –  versek szófelhőben – rejtvény
A könyvtár youtube csatornáján: 
A 

k

özépkori királyi vár erődítményei – Magony Imre előadása
A természet ereje – földrajzi katasztrófá

k

– Pap Viktória földtudományi kutató előadása

A forrongó hegyek éjszakája- a vulkánokról – Pap Viktória földtudományi kutató előadása
A gyermekeknek pedig a következőkkel készülünk:
Utazz velünk, és fedezd fel, hogy merre is van észak, dél, kelet és nyugat! Középpontban az iránytű (rövid története; iránytű készítése)
Térkép kontra GPS – Gyere velünk kirándulni! Barangolásunk során megismerkedünk 

k

ülönböző térképfajtákkal és térképjelekkel; utunkat Csapody Kinga meséi 

k

ísérik.
English
Joining the series of programs at GeoNight, the Vörösmarty Mihály Library would like to put the attention on the importance of the science of geography by book recommendations and online presentations and by organisation of a quize about the County of Fejér and the city of.