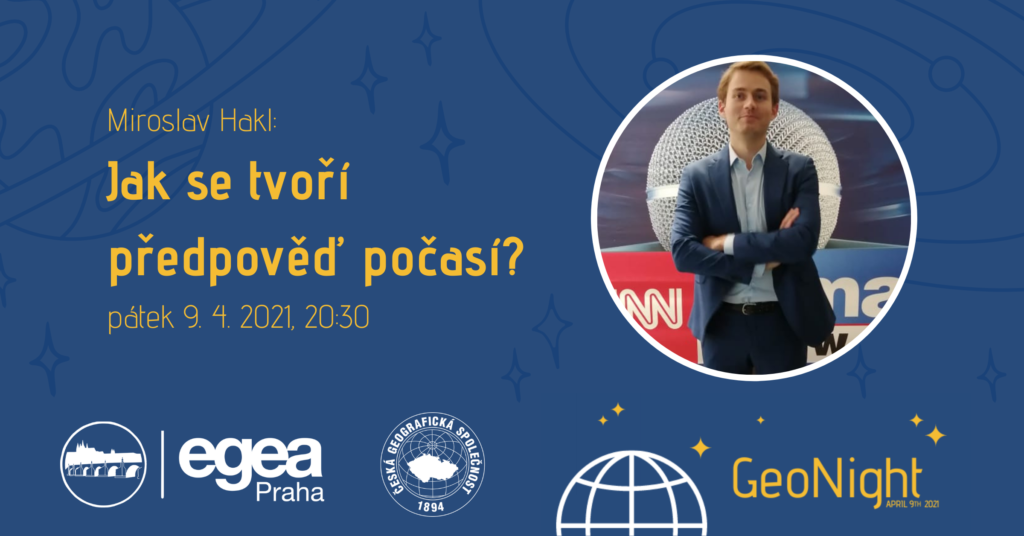 How are weather forecasts made?
Date and time: 9. 4. 2021, 20:30 CEST
Short presentation of the event:
ENG: This session will be about weather forecasting. Why is it so difficult? What data do we use for that and how the prediction works at the Czech Hydrometeorological Institute?
Popis události:
CZ: Jak se tvoří předpověď počasí a proč to vůbec není jednoduchá záležitost? Z jakých dat vychází ve svých předpovědích Český hydrometeorologický ústav? Pokud Vás zajímají odpovědi na tyto otázky, nenechte si ujít jedinečnou přednášku Míry Hakla nabitou zajímavostmi ze světa meteorologie!
Event language: Czech / čeština
Country: Czechia
City: Prague
The event will be: Online
Link for the recording / odkaz na záznam: https://www.youtube.com/watch?v=C6ukqCFQ_-M&t=5s
Reference person: Daniela Kebertová
Role or Function: contact person of EGEA (member of Czech Geographical Society)
Reference Organization (if any): EGEA Prague, Czech Geographical Society
Those who organize are: Students
Expected duration: around 1,5 hour