Short presentation of the event:
Online lecture about geographical characteristics of Karnataka and some impressions of the places of interest visited.
Spletno predavanje o geografskih značilnostih Karnatake in potopisni vtisi o nekaterih obiskanih znamenitostih.
Objectives:
To promote geography by presenting less known part of the world to Slovenian audience.
Promovirati geografijo s predstavitvijo manj znanega dela sveta slovenski javnosti.
Event language: Slovenščina (Slovenian)
Country: Slovenija
City: Prevoje pri Šentvidu
The event will be: po spletu (online event)

Link (for online events): [Zoom povezava]
Reference person: Dr. Stanko Pelc
Role or Function: visokošolski učitelj
Reference Organization

:
TURISTIČNO DRUŠTVO SV. VID
Those who organize are: strokovnjaki, geografski navdušenci, člani turističnega društva
Expected duration: približno eno uro
Event program:
Noč geografije vam razkrije, kaj Karnataka je, če ni "kar neki tko"!
Vabljeni v petek, 9. 4. ob 21:22 v našo družbo, pa čeprav zgolj na daljavo.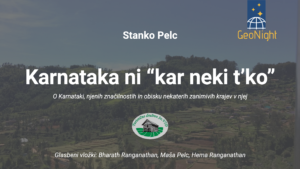 Za motivacijo in da ne razkrijem preveč pa zgolj nekaj fotografij iz Karnatake.