Landscape and cultural heritage in Campania: resources and criticalities – Paesaggio e beni culturali in Campania: risorse e criticità
Short presentation of the event: Si vuole animare un dibattito sullo statu quo delle risorse della Campania, tra punti di forza e debolezza. Al centro vi sono i paesaggi e il patrimonio culturale, materiale e immateriale, della regione, esaminati attraverso percorsi di lettura, strumenti mediatici e geotecnologie. Una particolare attenzione sarà riservata a possibili percorsi di visita in alcune località campane, anche con riferimento all'apertura al pubblico di siti monumentali grazie al contributo essenziale del Volontari del Touring Club Italiano.
We want to animate a debate on the status quo of Campania's resources, between strengths and weaknesses. At the center are the landscapes and the cultural heritage, tangible and intangible, of the region, examined through reading paths, media tools and geotechnologies. Particular attention will be paid to possible tourist routes in some Campania locations, also with reference to the opening to the public of monumental sites thanks to the essential contribution of the Volunteers of the Italian Touring Club.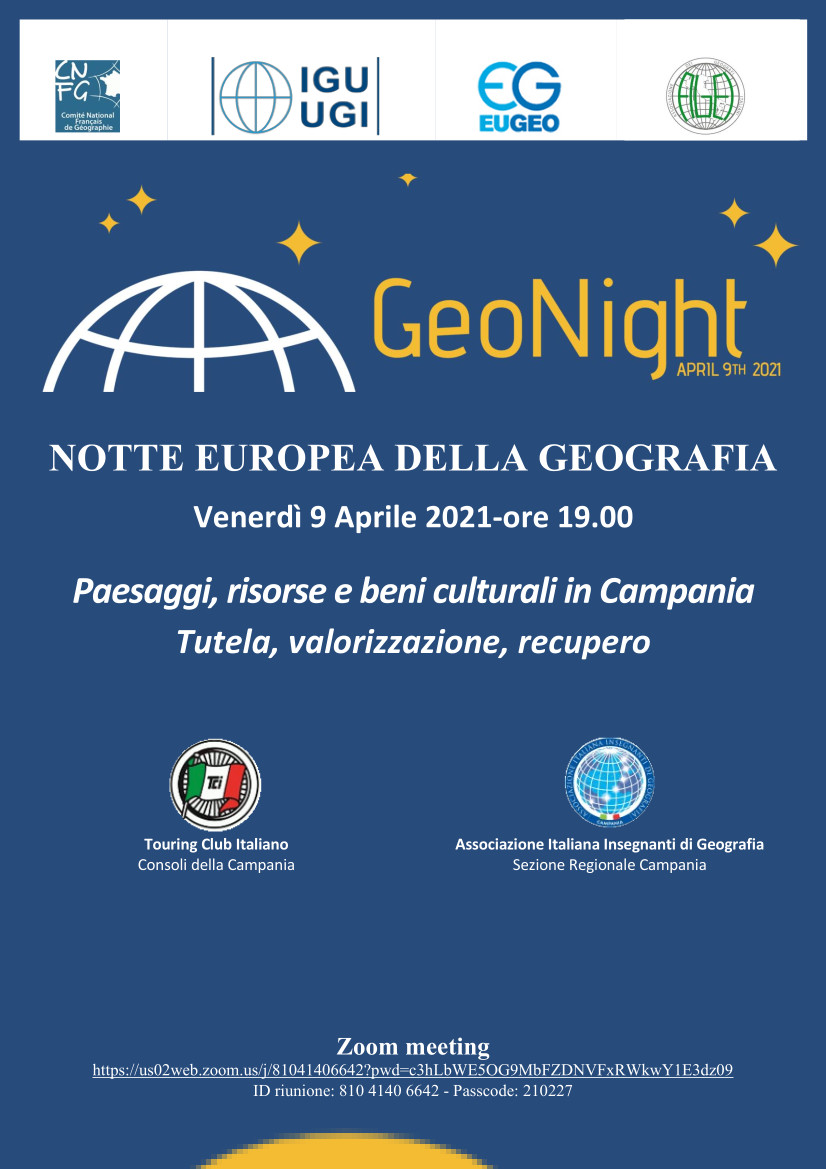 Objectives: Evidenziare risorse, paesaggi e beni culturali della Campania meritevoli di valorizzazione e tutela, o anche di risanamento e recupero.
Event language: Italiano
Country: Italia
City: Fisciano-Campus Università degli Studi di Salerno
The event will be: Zoom meeting
Link (for online events): https://us02web.zoom.us/j/81041406642?pwd=c3hLbWE5OG9MbFZDNVFxRWkwY1E3dz09 ore 19.
ID riunione: 810 4140 6642 – Passcode: 210227
Reference person: Silvia Siniscalchi
Role or Function: Presidente AIIG Sezione Regionale Campania
Reference Organization: Giovanni Pandolfo (Touring Club Italiano), Silvia Siniscalchi (AIIG Sez. Regionale Campania), Teresa Amodio (AIIG, Sez. provinciale Salerno), Emilia Sarno (AIIG, Sez. Provinciale Avellino), Viviana D'Aponte (AIIG Sez. provinciale Napoli)
Those who organize are: Accademici, Appassionati della Geografia, Referenti dell'AIIG Campania e del Touring Club Italiano
Expected duration: circa 2 ore
Event program: http://www.aiigcampania.it/2021/03/09/notte-della-geografia-2021/