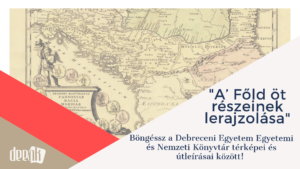 Scroll down for English
A Debreceni Egyetem Egyetemi és Nemzeti Könyvtár állományában lévő országos és nemzetközi szinten is értékes, egyedi dokumentumokról, védett gyűjteményrészekről, hagyatékokról és muzeális értékekről digitális másolatokat készítünk.
Az Európai Digitális Könyvtár (Europeana) digitalizálási kezdeményezéséhez szinte elsőként csatlakozva, az Europeana Travel projekt lehetőséget biztosított számunkra, hogy különleges, kultúrtörténeti jelentőséggel bíró térképeinket és utazási irodalmi gyűjteményünket is megmutathassuk.
Eseményünk során elsősorban debreceni, magyarországi és európai vonatkozású térkép-különlegességeink, valamint a világ számos pontjáról született, könyvritkaságnak számító útleírásaink gyűjteményét szeretnénk az érdeklődők figyelmébe ajánlani, mely darabjait már a 17. századtól lehet böngészni, főleg magyar, német és latin nyelven.
Gyűjteményünk oldala: https://lib.unideb.hu/hu/dea-gyujtemeny/dea_terkepek_utleirasok
Célunk, hogy a  Facebook-oldalunkon és a honlapunkon népszerűsítsük és mutassuk be az említett gyűjteményünket, 1-1 mű kiemelésével, tematikusan, a földrészekhez kötötten.
Facebook-esemény: https://www.facebook.com/events/471666330630295/?acontext=%7B%22event_action_history%22%3A[%7B%22mechanism%22%3A%22surface%22%2C%22surface%22%3A%22create_dialog%22%7D]%7D&onload_action=online_event_upsell_dialog
English:
The Special collection of maps at the national Library of the University of Debrecen will be made available online on the night of geography.