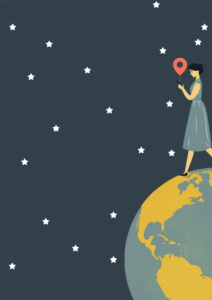 Walk on the globe – Pasivaikščiojimas gaubliu
Short presentation of the event: Renginys vyks nuotoliniu būdų per google meets platformą, balandžio 9 dieną ir vyks nuo 13 val iki 15 val. 
Kviečiame Krekenavos Mykolo Antanaičio gimnazijos, Telšių Žemaitės gimnazijos, Gargždų Vaivorykštės gimnazijos, Joniškio Aušros gimnazijos ir Druskininkų gimnazijos moksleivius nuo 9 iki 12 klasės suburti 3-4 žmonių komandas,  dalyvauti protmūšyje "Pasivaikščiojimas gaubliu" ir smagiai praleisti laiką!
Norintys dalyvauti parašykite paštu roberta.budreckaite@chgf.stud.vu.lt ir atsiųsime visą reikalingą informacija.
Objectives: Sudominti mokinius geografijos mokslu
Event language: Lietuvių/Lithuania
Country: Lietuva
City: Telšiai (nurodoma žemėlapyje), Krekenava, Joniškis, Gargždai, Druskininkai.
The event will be: Nuotolinis
Reference person: Roberta Budreckaitė
Role or Function: Vilniaus Universiteto studentė
Reference Organization (if any): Lietuvos geografų draugija
Those who organize are: Vilniaus Universiteto studentai
Expected duration: apie 2 val.